Blades International, Inc. has helped a number of corporate and commercial clients manage their FX Costs and maintain their savings.
See Below Classic Middle Market and Corporate FX Rate Integrity® Success Story Samples
Foreign Exchange Rate Integrity® worked well for this Middle Market client which dropped their FX Markups from 318bps to only 50bps. Their challenge was that they had a growing need for foreign exchange and simply did not know their Markups. They were paying Fees of about $15 per FX Wire Transfer so they saw they were paying about $1,000 a year in FX Wire Fees. However, they simply did not realize they were also paying Markups of about $60,000 per year – in addition – to the FX Wire Fees. Their outside Auditing Firm was aware of the Foreign Exchange Rate Integrity® service and introduced the Controller of the company to Blades International to discuss their FX situation. The Foreign Exchange Rate Integrity® service was embraced as a Solution after a quick review of some of the FX rate data.
Within weeks the Middle Market client had a report quantifying their historic FX Markups, they were briefed on the market and what a fair FX Markup would be, and had a much better FX arrangement with their existing bank. Their bank readily realized their Client had a growing need for FX, that it was a significant volume, and they were more sophisticated in learning about the Markups they paid. Accordingly, their Bank was a good partner and gave them competitive FX Markups. As a result, they now have an Annual Savings estimated to be over $60,000 per year. Additionally, the Accounting Firm is very pleased as they are long time advisors to their client and found and pointed out a way their client could obtain a significant Savings with a Process Improvement.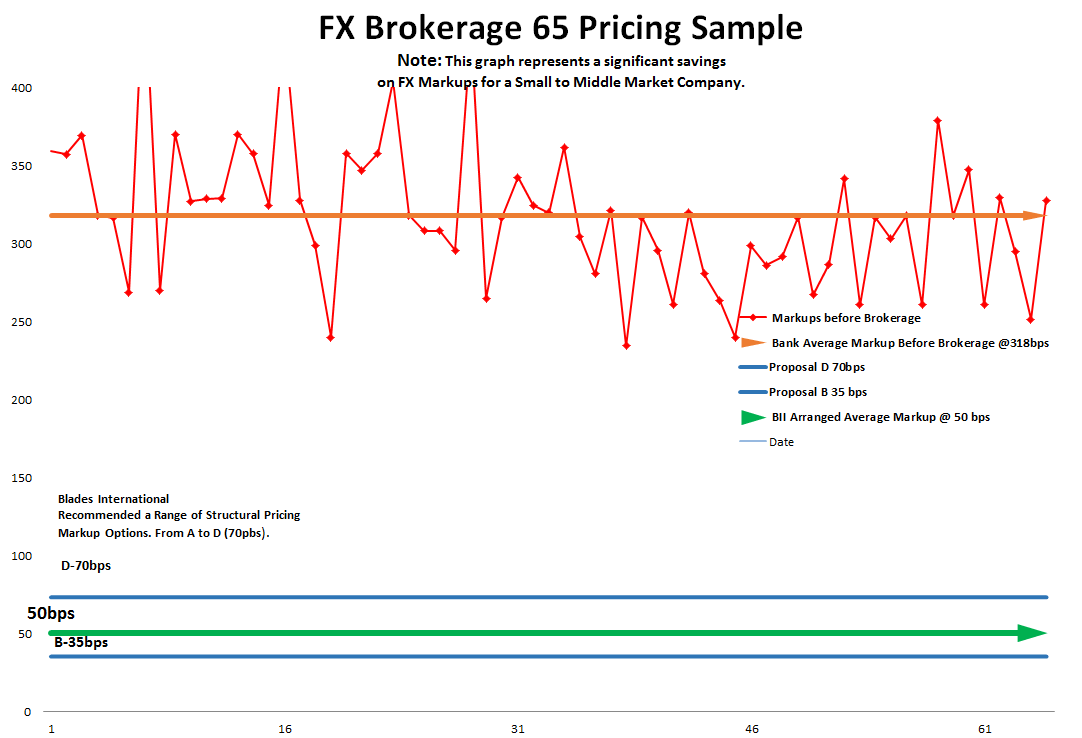 As a large multinational company this client saw their FX Purchases as modest and was --"Indifferent"-- about their FX Markups as they focused on getting good International Wire Transfer execution. Blades International, Inc. had a relationship for Letter of Credit services with the client and realized the client could also benefit from FX Rate Integrity. The Sample FX data was provided and showed a compelling opportunity. Blades International, Inc. was mandated and a full report was provided. A recommendation was made for lower market based pricing on the FX Markups. As a result, the Corporate Client was able to drop their FX Markups on average to only 7.5 bps when they had previously originally been well over 100bps.
The Client stayed with their existing bank which was their goal and a key issue as overall they had a strong and favorable relationship. They obtained a favorable structured, or grid pricing, which enabled them to get competitive pricing especially on their large FX trades. Subsequently, through the review process the bank was found to have inadvertently executed a trade through the wrong portal and when the FX Rate Integrity process of reviewing the Trades pointed this out the Client readily obtained an $8,000 refund. Overall, it is estimated the client has an ongoing Annual Savings of well over $100,000. In this case, the Internal Auditors and Treasury Managers value the Savings and ongoing review.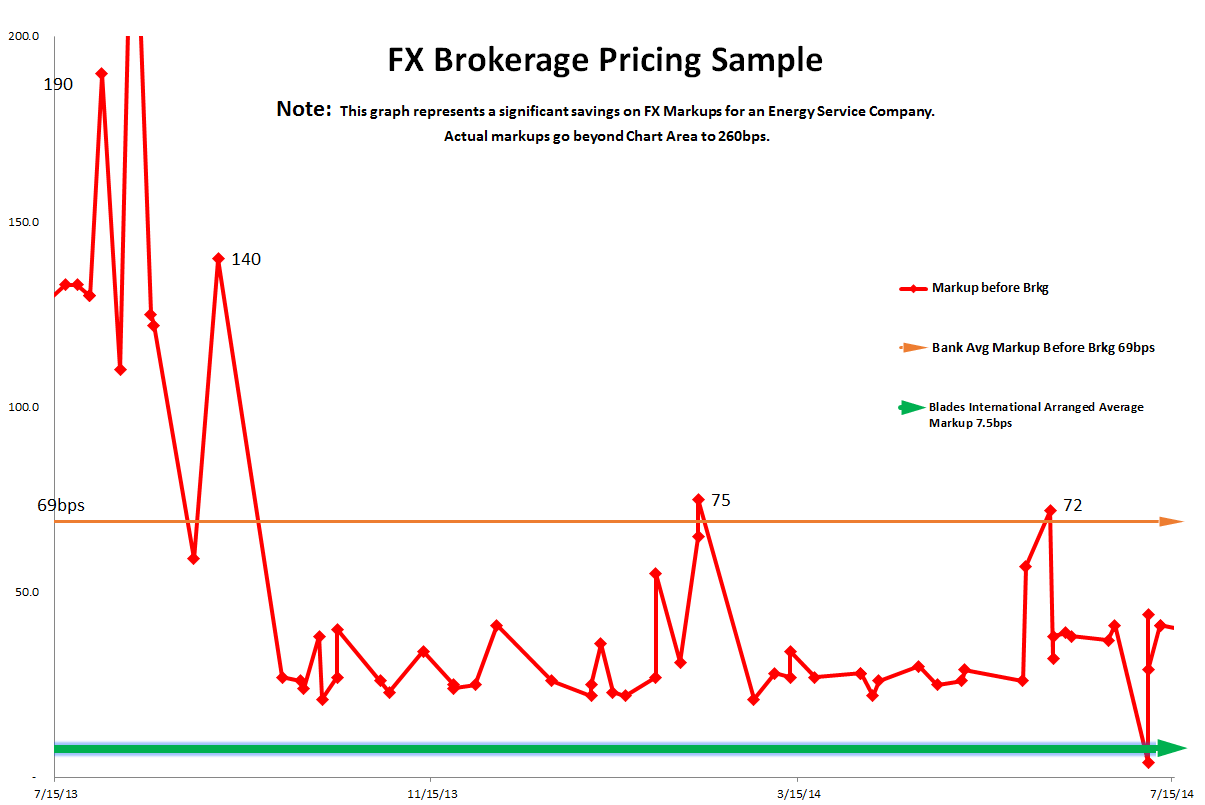 NOTE: Actual rate goes beyond Chart Area—260bps
Let's Do This!
Simply share your FX rate data, including the time, date, rates, currencies and volumes. We will provide you with free indications of your markups. Please do NOT send confidential account or payee information.
GET A FREE FX RATE REVIEW